In the June 15th City Council meeting the agreement to evaluate a transition from our current Community Center to a fitness center at the new Tri-County Mall redevelopment (Artisan Village) decision date was moved from the end of June to the end of September.
Summer has flown by!
So there are only a couple weeks left in that extension so where are we?  Some key points:
Administration continues to do it's due diligence and a recommendation has not yet been made.  (Though in the August 17th City Council meeting the Mayor reported significantly less activity on the redevelopment front.)
Current facilities assessments have been completed – including evaluations of the current Community Center.
A proposed lease agreement has not yet been presented to City Council.
How I Will Evaluate the Proposal
As I have mentioned in several meetings and on posts here there are still a number of open questions about a move as significant as this.  They fall into three categories:
Costs – direct onetime and reoccurring costs related to the move and running of the location
Connectivity – accessibility and integration into the community
Community – facilities available and interaction with commercial aspects of the development
Reviewing the proposal, listening to community feedback in the engagement sessions and beyond, and the tangible impact I have found that the majority of open questions and concerns fall into these areas.
These 3 C's in order:
Costs
Evaluating the costs associated with the proposal can be looked at both from initial startup costs (build out and equip) and ongoing costs.  These can be compared with the current facility maintenance costs and running costs.
The current Community Center was constructed in 1972 and an addition added in 2000 – all of which has a fair amount of deferred maintenance:
Looking at the cost in the table notice that the columns do not use the same time period – the first column of costs is expected over the next 5 years with the next two columns representing 10 year periods.  The table is just a reference – some items include facility updates like upgrades and replacements of equipment, other items may be unnecessary all together.
These costs along with the past budgets for Parks and Recreation gives us a good basis to compare the new construction and any lease agreement against which is very helpful.  It is true that a successful re-development will bring additional funds to the City.  However there will also be increased costs as well (police, fire, public works, etc.).
Key questions and data still in process:
If the Community Center were to move what is the high level plan (3 year and 10 year) for the existing building (especially with the fields and outdoor walking path being maintained at the current location)?
How would the costs and new building maintenance be managed in the event the development or TIF does not perform as hoped?
What is the center build-out capital and expense costs for the city in year 0 and 5 year+ outlook?
What would the ongoing staffing plan look like?
Pedestrian and Bicycle connectivity costs?
What are the expected public safety and public works staffing and equipment costs estimates for year 0 and 5 year+ with this and the other multifamily re-developments completed?
What is the ranked priority list for expected TIF funds?
Connectivity
One of the issues with a move identified very early on has to do with how the facility is in a busy area – both from neighboring commercial / warehouse activity as well as traffic.  The City has been working with outside consultants on a Bike and Pedestrian plan.  A draft plan was presented in a public meeting on 8/25 that shows what is possible.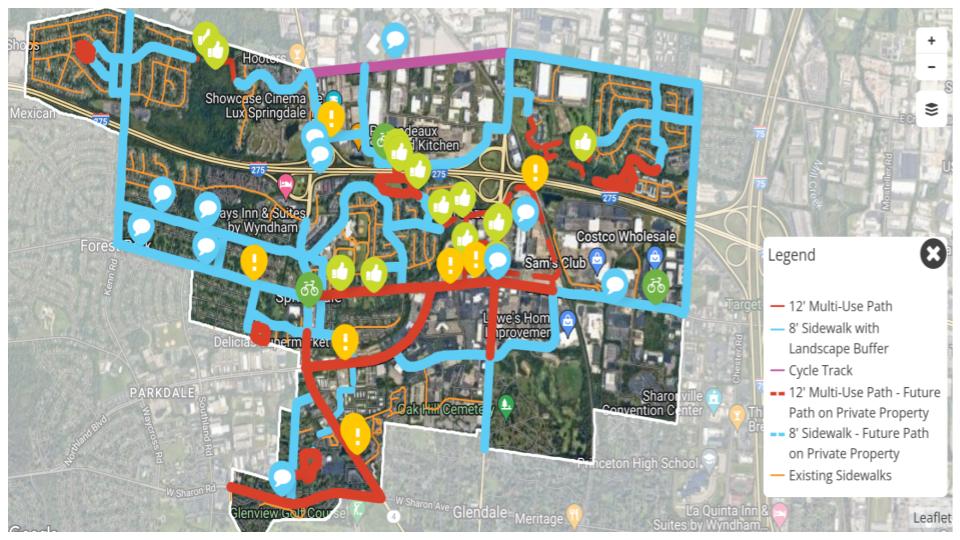 What is not included is costs associated with any of the ideas presented or any sort of actionable plan or commitment to make any of this real.  While it is too early in that projects process to have a full picture, zeroing in on the connectivity around the development itself is an important data point for evaluating a move.
Key questions and data still in process:
Pedestrian and bicycle access to the development – specifically between the current community center and the proposed facility (timeline and costs)
Crossing plans for Kemper, SR-747, as well as access along SR-747 crossing I-275
Community
The latest proposal has a reduction in some community center facilities (basketball courts, racquetball, outdoor pools, meeting rooms) and an increase in others fitness equipment, climbing wall, indoor pool.  While some outdoor facilities are expected to stay at the current location (fields, courts, outdoor walking path) others have not been discussed – such as the amphitheater and how a move would affect events like the summer concerts, community bash, etc..
Just as important is evaluation of how moving to a integrated commercial / residential site would affect the feel of the center.  Would young families feel as welcome surrounded by a DORA?  Will the signage and entrance feel like residents are coming to a public facility or a private gym?
Key questions and data still in process:
How will programming be impacted if the facility moves (which programs will move, be added, or removed?)
Are there sufficient facilities to support current use as expected new members?
Parking, signage, and child watch plans for the proposed facility?
How will Springdale police and Artisan Village safety resources interact?
Are there other areas of Public / Private partnership that need to be fleshed out (the City would be hosting public services inside a private development for the first time)?
What are the timeline and commitments for connectivity between the current and proposed locations?
There is a lot to cover with not a lot of time left!
---
What do you think?  Let your elected officials know!
email and phone numbers of all your City Council members are online – https://www.springdale.org/member-profiles.aspx
and
City Administration as well –
https://www.springdale.org/mayor-and-clerk-of-council.aspx
---